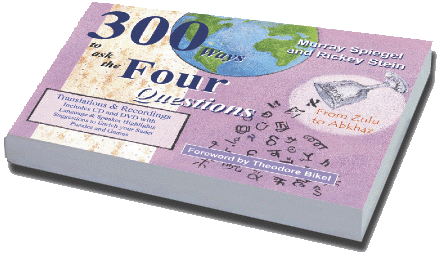 Adult program references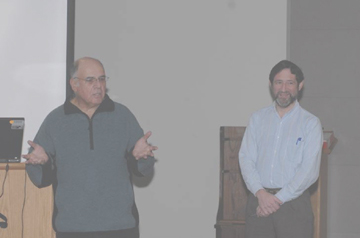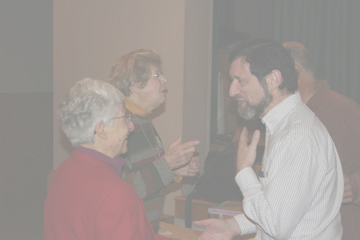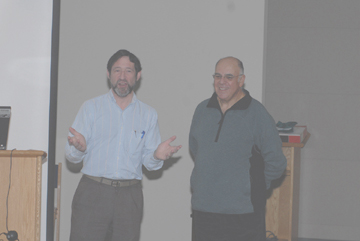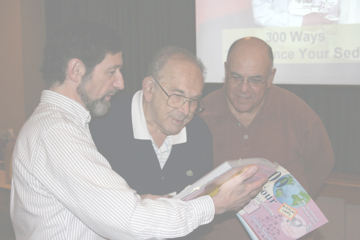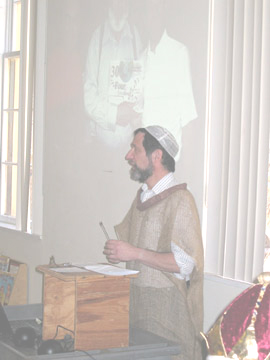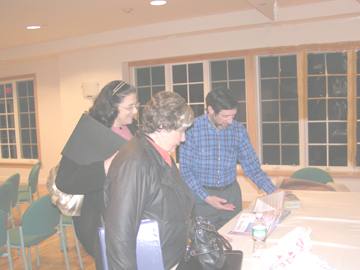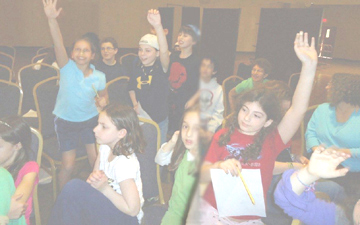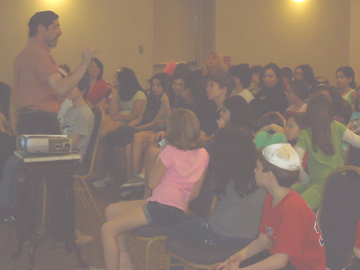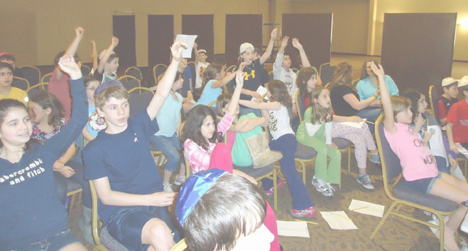 "Practical ideas to enliven the Seder" "Energetic and sensational" "Most vibrant and engaging!" "Recommend most highly" "Most positive feedback" "Scholarly, accessible, interesting and engaging" "Takes the 'ach' out of Pesach" "Infectious passion" "Very good reviews" "Loved it - greatly inspiring and uplifting" "Recommended with great enthusiasm" "Learned so much and LOVED your presentation"
Authors Spiegel and Stein know how to generate in listeners, young and old, their own fascination with languages and cultures that contribute to their hundreds of languages of Ma Nishtana. Their anecdotes as avid collectors and practical ideas for applying the book to enliven the seder make for a pleasurable workshop/talk suitable for Pesach. Many leaders have used these ideas at their own seders.
- Noam Zion, internationally renowned scholar and author
of A Different Night and A Night to Remember Haggadot
Director, Shalom Hartman Institute
What a wonderful event it was on Sunday! It was one of the fullest, most vibrant and engaging Passover sessions I have ever experienced. I was so glad that you and Rickey were able to come to our synagogue!
- Rabbi Rob Scheinberg
United Synagogue of Hoboken, NJ
Thank you for today's wonderful program. I have gotten only the most positive feedback. I am certain that a lot of families will have very enjoyable and educational seders this year as a result of your program. Anything we can do to enhance, elaborate, and endear the seder to our people (and, especially, children) is a major benefit. Feel free to use us as a reference for any shuls considering bringing you in for a program.
- Rabbi Ronald Androphy
East Meadow Jewish Center, NY
Murray Spiegel's presentation is as energetic as his sensational new book is informative and entertaining. Murray's stories add depth to this astonishing collection of research. I recommend Murray Spiegel's program to any community most highly. Hosting him has been a rare treat.
- Rabbi William Hamilton
Congregation Kehillath Israel, Brookline, MA
Murray Spiegel and Rickey Stein have accomplished an incredible feat in the compilation of the Four Questions in over 300 modern, ancient, and even fictional languages. For such a seemingly scholarly piece of work, their presentation is accessible, interesting and engaging for any group of adult learners who love our tradition and love Passover. Their passion is infectious and will spread to your seders.
- Rabbi Howard Goldsmith
Congregation Emanu-El, Rye, NY
Murray Spiegel's presentation at Temple Beth Or was one of the best lectures we have had in years. The workshop was participatory, informative, and highly entertaining. Every single person left with books and helpful hints on how we can make our seders more interesting and exciting. It is with great enthusiasm that I recommend Murray.
- Rabbi Peter Berg
Temple Beth Or, Washington Township, NJ
Many times presenters are scheduled with much hype leading up to their program and then the program falls flat. Gentlemen, that is surely not the case with your presentation: you presented one of the most awesome programs I have ever attended! It was informative, interesting and wonderful! Many thanks for a thoroughly enjoyable afternoon.
- Susan Roe, Head of Congregational Learning Programs
Temple Beth Zion Beth Israel, Philadelphia, PA
Murray gave an excellent presentation about Pesach Seders and the fir kashas that will be very engaging to your congregants. You MUST schedule him – the program is so good.
- Rabbi Adam Baldachin
Shaare Torah, Scarsdale, NY
The Rabbis in our area wanted to talk with Rabbis where you've given your workshop. The answer has came back: Our Rabbis have signed on. "Creative seders" got
very
good reviews.
- Jerry Fischer, Director
Jewish Federation of Eastern Connecticut (New London area)
Todah rabbah for sharing your amazing project with us. You could tell that we were all moved.
- Rabbi Aaron Rosenberg
Temple Emanu-El, New London, CT
We loved your presentation and it generated much excited talk about seder planning talk right up through the holiday. The scope of your work, the attention to detail and vision, along with your amazing creativity was all quite breathtaking. Everyone who attended your presentation felt compelled -- and equipped -- to find ways to improve their own sedarim with some of your innovations, or just with the spirit of innovation that your presentation modeled. We were greatly inspired and uplifted, thank you!
- Rabbi Amy Small
Beth Hatikvah, Summit, NJ
What a wonderful evening! Your presentation was absolutely entertaining, thoughtful, and informative. Everyone thoroughly enjoyed your talk. We thank you for sharing such wonderful stories and providing such helpful resources. You certainly take the "ach" out of Pesach!
- Carol Sussman, Programs Chair
Cong Beth-El, Broomall, PA
I'm telling everyone how delightful your presentation is. I'm getting glowing reports from my guests all day about your talk.
- Deborah Cohen
Host of home presentation, Scarsdale, NY
| | |
| --- | --- |
| | Children's program references |
"Extremely entertaining and informative" "Fun and creative ... exciting" "Engaging and humorous ... highly recommend for your school" "Enthusiastic endorsement" "Most delightful and engaging" "Positive buzz"
I wanted to thank you for your extremely entertaining and informative sessions with our kids today. Not only is your research fun and creative but it serves such an important role in preserving Jewish life from so many communities that are disappearing. We really appreciate your dedication to making Passover education relevant and exciting for today's students.
- Rabbi Shawn Simon Hazani
Saligman Middle School, Elkins Park, PA
Murray Spiegel blends serious topics with an engaging and humorous style of presentation that kept our children engaged for over an hour. Not an easy feat to do. Curiosities were stimulated. The children were really taken with so many interesting ideas and new ways to think about the Four Questions and language. We highly recommend him for your school.
- Renee Rudnick (Assistant Head) and Robert Sarkisian (Head)
Jewish Community Day School of Rhode Island
I was thrilled with the presentation you both gave, as it kept the kids engaged and the adults interested. Feedback afterwards from the kids was fun to listen to, as they were still chuckling from the presentation. You did a great job at appealing to a multi-generational crowd, which is difficult. The buzz in the hallway from the adult attendees was positive too! It was everything I had hoped for.
- Ellen Glassman-Educational Director
Congregation Beth El, Broomall, PA
Your project and workshop is given my enthusiastic endorsement. I'm astounded more and more as I learn about the customs and history included. Bravissimo!
- Mona Sulzman, Director of Education,
Temple Beth El, Ithaca, NY
Thank you, thank you for a most delightful and engaging presentation to the students at Hevreh of Southern Berkshire. Your interactive presentation appealed to our group of 3rd through 7th graders. I was delighted by the numbers of students -- even the youngest -- who raised their hands to interact with your program. Your enthusiasm also enlivened your program. I do hope you will come back again.
- Paula Lee Hellman, Educational Director
Hevreh of Southern Berkshire, MA
Thank you for providing such an entertaining morning! I certainly think you got the children and parents thinking about trying something new at their Seders.
- Andrea Eisen, Director of Education
Temple Israel, Westport, CT
I sat down and began to study your 300 languages questions book. Outstanding!!!!!!
- Rabbi Barry Dov Lerner
President of Foundation for Family Education
My youngest was so fascinated by the CD he refused to get out of the car! Second time ordering - this is truly the most awesome book ever :-)
- Roberta Krieger
Brooklyn, NY
Your book is a wonderful resource - my son loves reading it every year and finding a new language to read the questions at our Seder. Thank you!
- Elana Rivel
Boston, MA