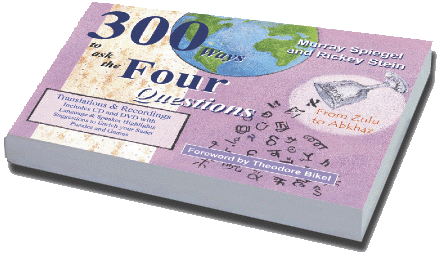 Customer Reviews Media and Interviews
(Click here)
Lynn Greene (SF, CA)


Wonderful fun
Each year at my seder, I use a wonderful book called "300 Ways to Ask the Four Questions" to bring some fun (and education) to the evening! You can ask the Four Questions in everything from Spanish to Latin to Pig-Latin to Valley Girl (this is my favorite) - and 296 more!!

As we plan our Seders, we can all use a lift. Whether you're hosting an intimate family-only Seder, or a big Seder, this book will add so much to your gathering!
Mark Schaffer (Rockaway, NJ)


It's Beyond Wonderful
Robin and I are love-love-loving the book. This book is amazing and fun, while being totally educational and immersive. I can't put it down - it's beyond wonderful. We read it all year long and leave it out in the living room for guests to find. It's about the Four Questions, but it does it through languages, cultures, religions and countries from around the world. Thank you for doing this - we have enjoyed this a lot.
Sandee Shape (Ontario, Canada)


Inclusiveness at its finest
Inclusiveness at its finest. I can't wait to see the look on their faces when I hand them this book!
Carra Minkoff (Philadelphia, PA)


Lovingly dog-eared
Our copy of '300 Ways' is already lovingly dog-eared and paged through. Our kids took turns sneaking it to school in backpacks and reading it with friends. It came to each seder with us, and our Slovakian and Peruvian friends enjoyed seeing the translations.
Barbara L


Even my kids love this book!
Excellent book! Highly recommend this! Love reading the four questions in all the different languages. It will be a great addition to your seder table. My kids love this book too! If you buy this you will not be sorry!
Momma Witz


Indispensable resource, absolutely nothing else like it!
So many wonderful ways to add interest, fun, challenge, and even hilarity. This is an indispensable resource, and there is absolutely nothing else like it.
Marilyn H Graber


Hit of the Seder
I copied several of these, mailed them ahead of time so my guests could practice, At the Seder, I called on people to either read their entire selection or a pre-selected part. Best of all, my nephew showed up with a girl from Spain who was Catholic, I whipped out the book, and she got to read the Four Questions in Spanish for us! This was a real highlight. This is an indispensable resource, and there is absolutely nothing else like it.
Melissa Simon (NJ)


Loving the book!
Illustrates how connected we are as Jews throughout the world and how amazing it is to be in any country and feel connected. I also love the connections to other cultures and languages.
I enjoyed reading about the people who did the translations as much as I enjoyed thumbing through the book to appreciate all of the different languages represented.
LH


Awesome
Awesome book for Passover! Something for everyone and guaranteed laughter while asking the four questions!
M. Simon


Great quirky book
Loving the book! I wish we had secret languages in our family to share to increase the collection. Stories illustrate how connected we are as Jews throughout the world and how amazing it is to be in any country and feel connected. This book is the same thing but from a different angle. I love the connections to other cultures and languages. We will incorporate the book into our Seder and have the kids ask the questions in the various languages they are studying in school. (Latin, German, French, and Spanish.) Perhaps one of our other guests will surprise us with a rendition in another language. All in all, thank you. I enjoyed reading about the people who did the translations as much as I enjoyed thumbing through the book to appreciate all of the different languages represented.
Dov Goldberg


Such an amazing book
This is such an amazing book. We had a woman from India over at Pesach and she spoke Tamil which happens to be in the book. She read the four questions beautifully! What a treat!
Rabbi Jack L. Moline (Alexandria, VA)


Almost Too Much Fun
You might argue that getting the Four Questions asked at the Seder is merely a performance moment for the youngest who can articulate them, but that the real business comes afterward. You would be wrong, of course, and nothing proves it more than this absolutely wonderful book. I gave it as a Chanukkah gift (enough lead time to prepare for Seder), but having a few of them on the table at Passover is just as good an idea.
If the task of telling of the Exodus is to view ourselves in every generation as if we came out of Egypt, this book enhances the essential experience by making us imagine the many destinations that Exodus did or might produce. What does a Japanese Seder taste like (wasabi bitter herbs)? How did my great-great grandparents explain things to a curious Polish neighbor (carefully)? What passes for chametz and matzah on Klingon (don't want to think about it)? If the haggadah is a time trip, Spiegel and Stein are our world-wide travel agents.
And this four questions book is just so much fun, whether I am flipping through the pages or trying to put the sounds in my own mouth. Why is it almost too much fun? Because it might wind up delaying the answer to the fifth question at the Seder: when do we eat?
Alexis Vega-Singer (Palm Beach Gardens, FL)


Amazing!
After cooking and cleaning all week, I stayed up late the night before the first Seder to read this four questions book. I just couldn't put it down! I brought it to our friends' house for Seder, and we spent more than an hour passing the book around, taking turns reading the questions in every language we had even a passing acquaintance with, and many we didn't! We couldn't stop laughing, but it also sparked some interesting discussions of past Seders we'd attended and Jewish customs we'd experienced in other countries. I plan to buy several copies for family and friends before next Pesach!
Rabbi Rick Winer (Fresno, CA)


Wonderful, Creative, Engrossing
As I sit and prepare for our congregations Community Seder, I've found myself engrossed in and enjoying this wonderful book. I met Murray at the URJ Biennial this year in Washington D.C. and was impressed not only by the sheer number of languages they've collected, but also by the creativity that's gone into making the four questions available in such a breadth of choices.
Here in Fresno, a great many languages are spoken. Spanish of course. Several Native American languages okay, that's pretty impressive. How about sign languages? "Which one?" Murray asked. They have American Sign Language (ASL), Israeli Sign, French Sign and Signed English all on the included DVD.
How about both Late and Middle Egyptian, Ugaritic (yeah, I studied that one in Rabbinic school - it's an ancient Canaanite language), Esperanto, Binary (in case you were wondering whether these guys are geeks) and if including Binary doesn't seal your judgment... yes, they included Klingon.
They've included information about each of the languages and a brief bio on the translators. Theodore Bikel read and translated the Yiddish as well as writing an introduction to the volume. Buy a copy of the book! I bought two.
Harvey Cohen (Middletown, NJ)


Endless fun ways to spice up the Seder
So many wonderful ways to add interest, fun, challenge, and even hilarity. This is an indispensable resource, and there is absolutely nothing else like it. It's the best Four Questions book you'll ever see.
Stacy L (Oceanside, NY)


A new tradition for Passover
A most interesting and fascinating book, the authors have researched languages from around the world, the past, the present and even out-of-this-world, to provide the text of the Four Questions in different and special ways. Think not only Spanish, French or Bengal; think Valley Girl? Legalese? Klingon? This book provides the perfect way to enhance your Seder and add something new. I had the good fortune to hear the authors speak about their years of research to produce this book, which also provides information about the translator and background on the language with each section. I recommend this Four Questions book for generations to enjoy.
Peter Sohn (Brooklyn, NY)


Easy way to get fresh morsels for Passover!
WHY THIS BOOK IS GREAT (and different) is that all of us same-old-same-olds ARE looking for easy ways to bring a fresh morsel or two to the Pesach table. Heaven knows, this tome provides that better than anything I can think of. Anyone who buys it will be glad they did. This is the Four Questions book to own.
Howard I. Verb (Monroe Twp., NJ)


Astounding!
What an astounding book! The research and presentation are outstanding!! I heartily recommend this Four Questions book to all who are the least bit interested in language, Judaism, geography, history, human interest, and, life itself. Buy the book!!!!!
Evan Chavkin (Boston, MA)


Incredible
This book has the most incredible collection of the Four Questions in different languages. Not only does it have a beautiful version of the four questions in Hebrew (lots of varieties), but also a beautiful calligraphied Ma Nishtana in Arabic, which is a joy to see and hear. There's also Ma Nishtana in Russian, Ma Nishtana in Chinese, both in transliteration and in translation. This is the authoritative Ma Nishtana book to get!
Valerie Davia (Steamboat Springs, CO)


Must get this
Infused with the great joy the authors take in their subject, 300 Ways to Ask the Four Questions celebrates the universal, liberating message of Passover in unique and wonderful ways. Through 300 languages, plus the puzzles and games, and especially their own absorbing quests into identifying, preserving and enjoying languages and the people who produced the translations, Spiegel and Stein bring us a far greater appreciation of the importance and significance of Passover and its meaning to all the world's peoples.
Laurence Bush (New York, NY)


Amazing, Wondrous
300 Ways is a wondrous book by Murray Spiegel and Rickey Stein that presents the Four Questions in more than 300 languages. The book includes a CD and DVD so you have hear those languages spoken by native speakers. The book also contains amazing information and photographs about the world's languages and cultures.
Steph G. (Saddle Brook, NJ)


How much fun can a book be?
You might ask that question and the answer would be lots. I've shown the book to several teenaged children and they found the book as fascinating as adults. Whether you're specifically interested in Judaica or foreign language and culture, the book has something for everyone. It's lots of fun to find out where languages are spoken and by how many people or just to see how many of the countries you've heard of or could find on a map. I enjoyed reading about the languages and the individuals that had done the translations. I was especially impressed by the beautiful layout and enjoyed seeing what each written language looks like. This book would make a great gift for anyone attending a Seder or interested in the world in general.
Lori S. (Essex County, NJ)


A New Treat for the Seder Table
If you think you have every possible conversation-stimulating Haggadah, poem, song, puppet, reading and activity for your Seder table, you haven't seen this wonderful collection! Engaging and intriguing, I have recommended this to countless friends as the best addition for the Seder table.
Elysa Sunshine (Glen Cove, NY)


Awe-inspiring
Had a chance the other day to sit with this book for a while. It's really an awe-inspiring accomplishment. I'm so impressed with the amount of information you've gathered, never mind how you managed to gather it, as well as the vibrant and exciting format you've created. You should hopefully sell zillions of copies (I'll do my best to help).
Emily Stark (Cambridge, England)


A perfect coffee table book
This book is the perfect coffee table book/conversation starter. It's one you can pick up again and again, each time finding something interesting. It's organized beautifully for both reference and for idle flipping.
For each of the three hundred languages (some live, some ancient, and some humorous) you get the Four Questions in translation (and phonetics as well if applicable), a pithy description of the history of that language, and one or two colorful photographs.
Anyone who is interested in words, in languages, or geography would enjoy this book.
Andy Granett (East Windsor, NJ)


Wonderful book
The reviews of this book are great and I look forward to buying.
Carole & Barbara Lindner (Philly)


OMG
We just began to peak at the book. All we can say is OMG!!!!!!! Just amazing! There are too many adjectives to even begin to describe what an unusual piece of work that is!!! Thanks for this stellar achievement.
Midwest Book Review (Oregon, WI)


A unique and enthusiastically recommended addition
Co-authored by Murray Spiegel and Rickey Stein, and featuring an informative foreword by Theodore Bikel, "300 Ways To Ask The Four Questions" provides a fascinating, colorfully illustrated, 400-page examination and presentation of the Seder (including both the Jewish holiday meal and service) from the perspective of a variety of languages and cultures. This massive reference work is the result of some twenty-five years of research in the collection of translation of the Four Questions that form the basis of the Seder celebration. Contributions were provided by Jews from Uganda to Uzbekistan, the languages range from Abkhaz to Zulu, and even includes sign language. Of special note are the contributions by experts of ancient languages -- including Egyptian from the time of the Exodus. Substantially enhanced with both a CD and a DVD with language and speaker highlights, "300 Ways To Ask The Four Questions" also features a variety of fun games, puzzles, and parodies, making it a unique and enthusiastically recommended addition to personal, family, synagogue, academic, and community library Judaic Studies reference collections.
Media Interviews
PBS
Creative Seders
"Gonna tell you all a story 'bout the Jews in Egypt."
There's a couple in Roseland, New Jersey, Murray and Randi Spiegel, who each year invent new ways to dramatize and sing about the traditional story. They've become so good at it, and have so much fun, there's a waiting list of their friends who want to come.
See the show segment See the show segment
New York Times
"Combed globe for native speakers" "Multi-multilingual" "Used Hebrew semaphore"
MURRAY SPIEGEL turns Passover into his own Halloween. Mr. Spiegel, a software engineer, dresses in costumes, empties furniture from several rooms of his Roseland house and replaces it with elaborate sets for the Seder. In the past his house has become a jumbo jet taking the Israelites out of Egypt, a tent with sheets draped everywhere and pillows on the floor, an ancient Egyptian dwelling with a five-foot inflatable sarcophagus, hieroglyphics on the walls, and ads for embalming companies. He'll always retell the Passover story of the Israelites' exodus from bondage in Egypt. But multiple speakers playing Passover songs and sound effects and Mr. Spiegel's complicated treasure hunts make his observation far from traditional.
See the Article See the Article
WFMU (NJ)
JM in the AM / Nachum Segal
"It's unbelievable!" "It's really an incredible book!"
How many languages will Ma Nishtana be said in tomorrow night? ... The name of the book is 300 Ways to Ask the Four Questions, an amazing work by Murray Spiegel and Rickey Stein. It's unbelievable! They have an incredible collection of every language imaginable, and having the Four Questions asked in all those languages. They have a CD that accompanies it. It's really an incredible book. What a work to put this together. 300 Ways to Ask the Four Questions; you can check it out online. Really is amazing!
Samples from the show Samples from the show
Yiddish Book Center (MA)
Tune In
"Incredible" "Amazing to hear"
Dr. Murray Spiegel has established a reputation for innovative Passover seders. Since leading his first seder while in graduate school, Murray has made each of the more than 35 seders different from the last. With his wife Randi, Murray has transformed his house into a Bedouin tent, a jumbo jet taking the Israelites out of Egypt, and sooo much more. Murray, with his friend Rickey Stein, have combed the globe for native speakers for their Four Questions translations. [Interview then explains history of project and some really cool languages.]
Watch show segment Watch show segment
© Copyright Spiegel-Stein Publishing