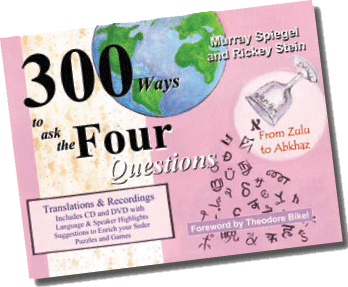 Perfect for every seder table...
Other pages on our site Some many be unwieldy for cells. Be sure to check 'em out on larger screens
DVD info What's on the DVD and CD, plus help for using DVD
Additional trans Cool, recent additions in the 2nd Edition (and some not even there)
Oops List of corrections — Nobody's perfect :(
Upcoming dates Where we're presenting our Passover Prep workshops
Programs What programs we offer
Press Kit PR help for our workshops
Room Layout Arrangements/equipment
References Reviews of our programs and workshops
Day School project One amazing school project based on our book
Customer and media reviews See us blush :)
PBS We were on PBS! Watch the segment
NYT We were in the New York Times! Read the article
About the authors Bios and pictures
Contact Us Email the authors, Murray & Rickey
---
Some amazing stats A 35-year quest — Contributions from over 850 people living in 102 countries — 400 colorful pages — 98 different language fonts — 340 recordings
The most multi-cultural book you've ever seen!!
© Copyright Spiegel-Stein Publishing