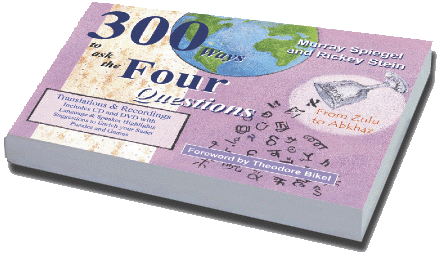 30 years in the making ...
One of the most amazing books ever ...
The most languages for any Jewish ritual text!
And ... the most languages every contained in one book
— with 98 language fonts — a unique and fun gift for all ages.
Sample Fliers for Creative Seder Programs
Use one of these sample fliers to publicize our programs at your organization – choose a style you like! Feel free to edit these for the needs of your organization.
Do promote to Adult learners as well as parents with kids. Our programs are scholarly as well as fun. Contact Dr Spiegel for bios, blurbs for newsletters and newspapers, and for our suggested room layout and equipment needs.
Flier1 download: Just Spiegel Both authors
Flier2 download: Just Spiegel Both authors
Flier3 download: Just Spiegel Both authors
Flier4 download: Just Spiegel

To edit in Word: click View/Edit Document
(Flier #4 above: specifically for programs with parents of young children)
Flier5 download:
Summer-time program
(Flier above: for programs at adult summer camps)
Suggested Room Layout for Programs
Here are the ideal room layout and equipment needs for:
Our adult programs
Our childrens programs
Adult programs
Childrens programs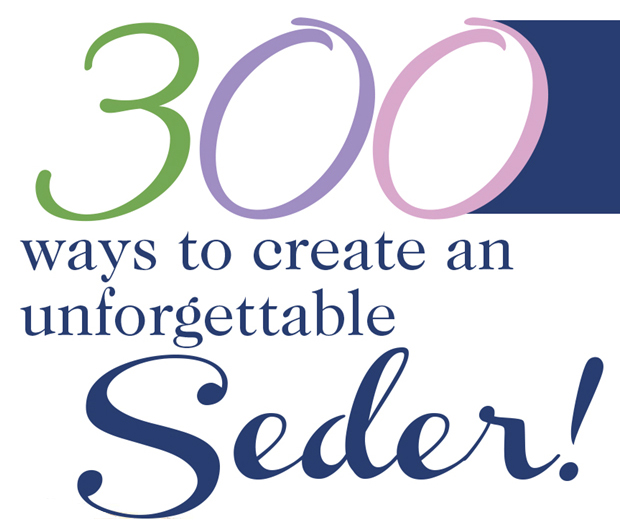 For use in Synagogue Bulletins
This is a small graphic you can use as publicity in synagogue bulletins and newsletters. Right click here and select 'save target/link as'. Or use one of the fun semaphore images down below.
For Facebook Posts & Events
Suggested content for social media/Facebook (use the image download below):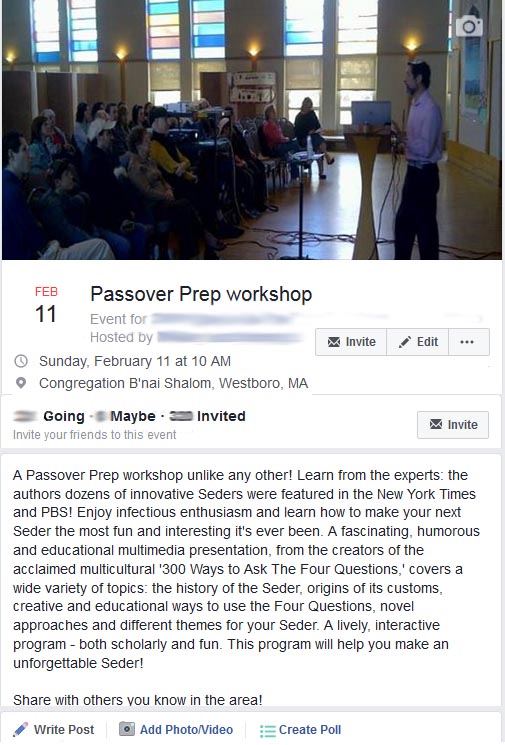 A Passover Prep workshop unlike any other! Learn from the experts: the author's dozens of innovative Seders were featured in the New York Times and PBS. Experience infectious enthusiasm and learn how to make your next Seder the most fun and interesting it's ever been. A fascinating, humorous and educational multimedia presentation, from the creators of the acclaimed multicultural '300 Ways to Ask The Four Questions,' covers a wide variety of topics: the history of the Seder, origins of its customs, creative and educational ways to use the Four Questions, novel approaches and different themes with discussion topics for your Seder. A lively, interactive program - both scholarly and fun.

Share with others you know in the area. This workshop helps everyone make an unforgettable Seder.

Download publicity image here for social media/Facebook posting.


Book Reviews Some review excerpts and downloads you can use.
Please mention, as these reviews do, where the book is available: the WhyIsThisNight.com website or primarily Jewish book stores.
Rabbi Jack Moline / Alexandria, VA [215 words]
"Almost Too Much Fun! If the task of telling of the Exodus is to view ourselves in every generation as if we came out of Egypt, this absolutely wonderful book enhances the ... experience by making us imagine the many destinations that Exodus did or might produce ... If the haggadah is a time trip, authors Spiegel and Stein are our world-wide travel agents."
Download the full review Download the full review
Washington [DC] Jewish Week [184 words]
"Your family's got the Four Questions down pat ... How about a challenge this year? As in asking the questions in Latin or Thai or Norwegian. How about Zulu, Tulu or Judeo-Iraqi? ... Our favorite is Lawyerese: 'Why is this night, defined as that period of time commencing at sundown according to readily established almanac norms ...' Imagine teaching that to your 3-year-old!"
Download the full review Download the full review
The Jewish Voice (Wilmington, DE) [350 words]
"Nu? Nothing changes you say? Why not make your seder a little different ... Even if you don't intend to make your seder as different as we plan to, the colorful illustrations, facts, and two companion disks of this book make for enjoyable reading and listening. It will expand your understanding of Jewish communities and customs of the far corners of the Diaspora that many have never heard of."
Download the full review Download the full review
Media Coverage
Check out some of our coverage in the Jewish (and non-Jewish) media!
Image Downloads
The download link provides small-sized, high resolution files suitable for publishing. Right clicking on the image itself (select "save picture/image as") provides a lower-resolution version with a size suitable for web pages.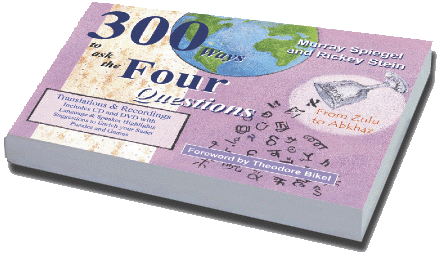 Thick book image -
Download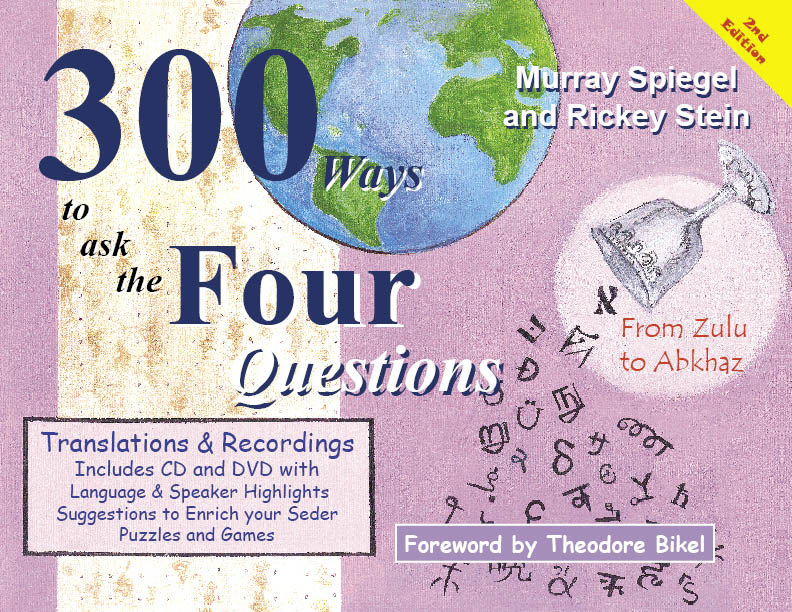 Flat cover image -
Download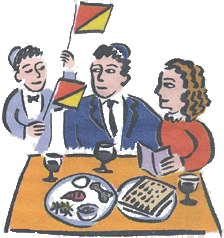 Cartoon Semaphore kid - Download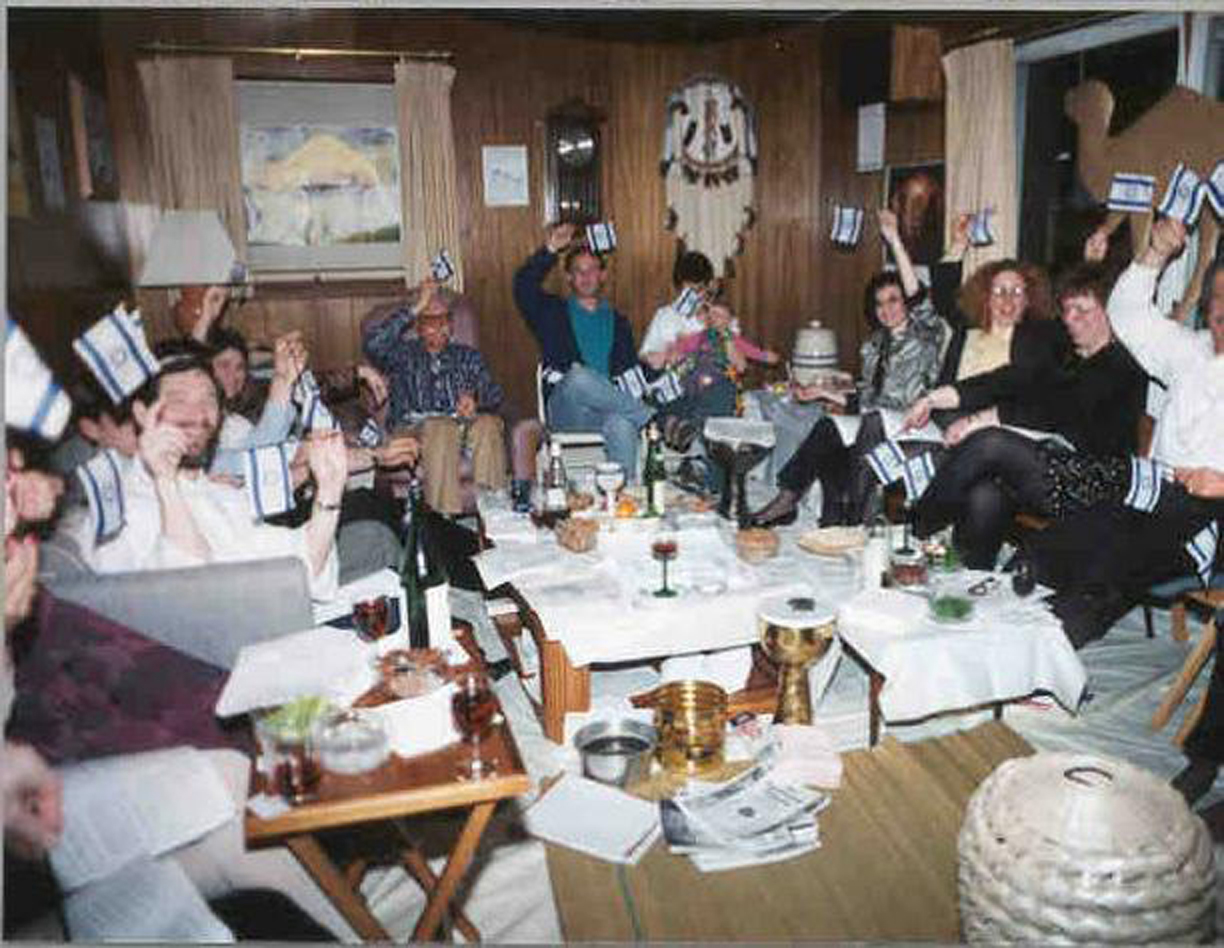 Author's Seder using Hebrew Semaphore - Download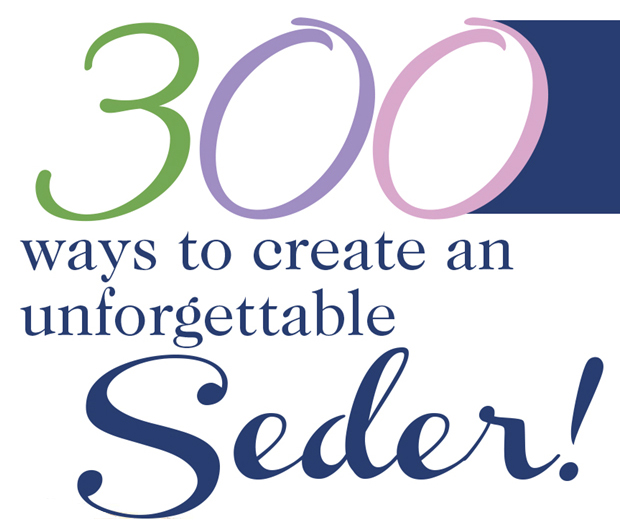 Program graphic - Download
Workshop image - Download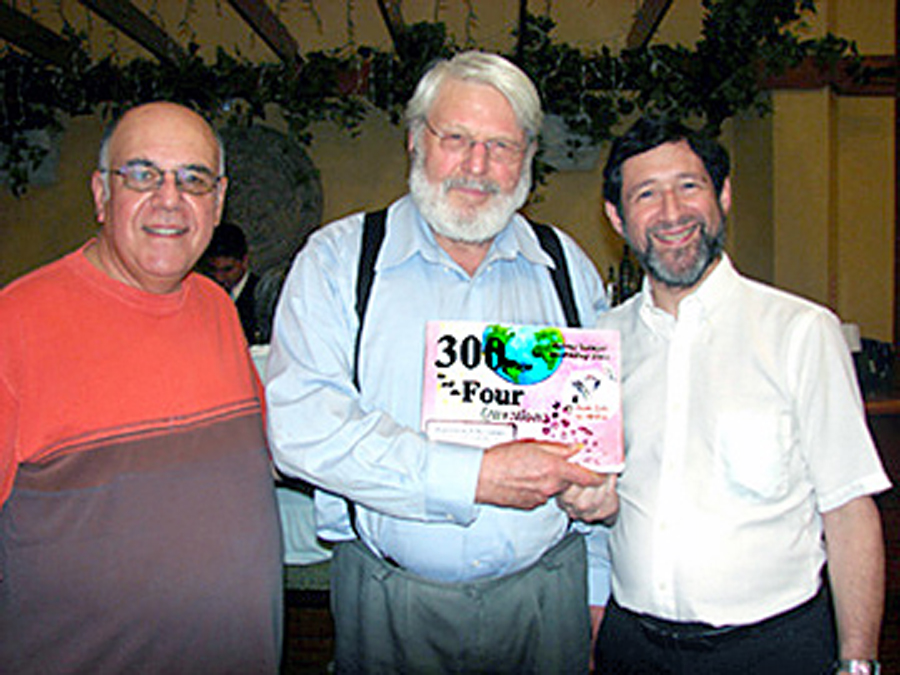 Authors with Theodore Bikel - Download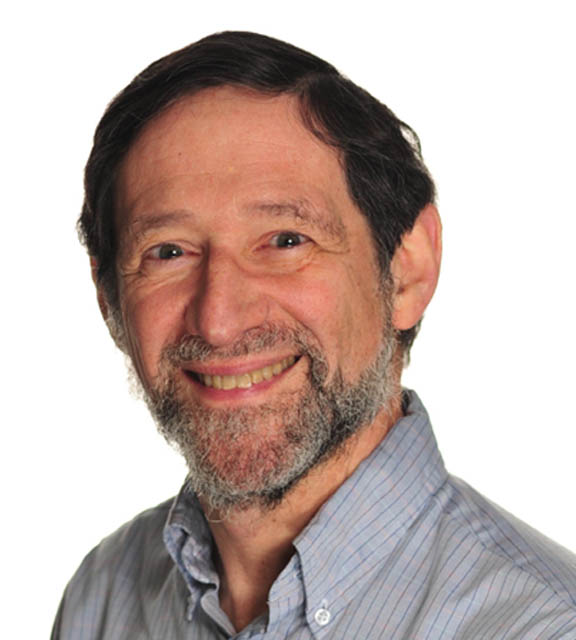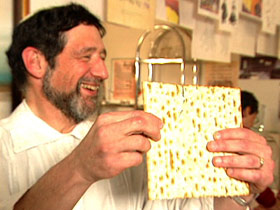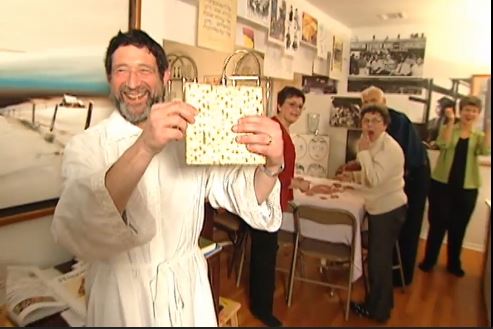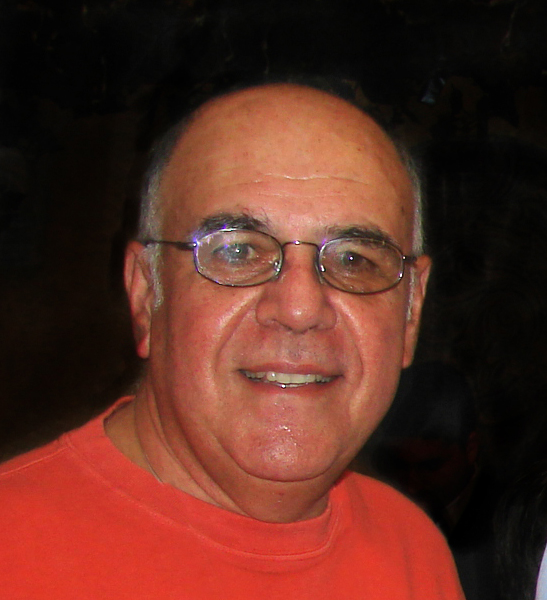 Author Headshots - Spiegel_Download Stein_Download
Afikomen Afikomen+Group
© Copyright Spiegel-Stein Publishing